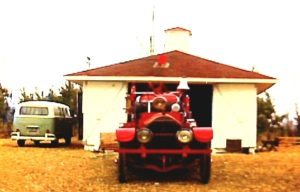 The Green Mountain Volunteer Fire Department (GMVFD) was organized in 1966. At that time, Green Mountain was not inside the city limits of Huntsville. There were no water mains and the fire station operated out of a small converted garage. In 1972, Green Mountain VFD became a charter member of the newly formed Madison County Association of Volunteer Fire Departments (MCAVFD). In 1974 the MCAVFD provided funds for GMVFD to build a new fire station; the present-day structure housing 13A and 13B.
In 1976 Green Mountain was annexed into the city of Huntsville. As a condition of annexation, GMVFD was required to continue to operate with Huntsville Fire & Rescue sending assistance. By 1985, water mains had been installed over all the Green Mountain area giving GMVFD even greater capability in firefighting. GMVFD carries the distinction of being the first volunteer fire department in the state of Alabama to have members certified by the Alabama Fire College.
In 2011, GMVFD acquired the small house next to the fire station for use as our training facility. In 2014 the facilities were sold to the City of Huntsville. An operational agreement and lease were formalized at that time. Today, GMFVD provides emergency medical response, wildland rescue, structural wildland, and other fire suppression with our 15 members and apparatus including engines E13A & E13B, SR13, GATOR13, Medic 13, and our ATV.